On-Site Support Team
On-Site Support Team volunteers may be asked to assist with a variety of tasks, with Campground Hosting being a primary area. Please check specific park web pages for the type of duties you can expect to be assigned at each park.
Volunteers provide their own lodging (tent, camper, trailer, motor home) and are provided a free campsite, most often with utility hook ups. We ask for a commitment of at least six (6) weeks and donated time of at least 20 hour per week.
Since we receive many more requests for positions than we have available, this is a very competitive process. Please feel free to add letters of recommendation, pictures of yourself and your motor home, resumes and other information that you think might be helpful to us in making our selections. Due to the volume of requests, the Park staff may not be able to contact you unless they have open positions.
Projected On-Site Openings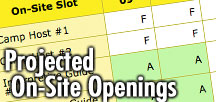 Projected On-Site Openings information. Before applying for a specific time period, check out the current openings by month. New parks will be added soon. Learn More
Online Application
Applications for the Volunteer Program are now accepted online. Apply online now
If you are unable to secure a position with us, review our list of other agencies in Arizona that offer on-site opportunities.
Volunteer Voice Newsletter

We encourage all volunteers to stay connected to what's happening in the Arizona State Parks Volunteer Program by signing up for the emailed Volunteer Voice Newsletter. You may also read current and past issues online.
Park Specific Opportunities
Western Region
Alamo Lake State Park
Buckskin Mountain State Park
Cattail Cove State Park
Lake Havasu State Park
River Island State Park
Northern Region
Dead Horse Ranch State Park
Homolovi State Park
Red Rock State Park
Riordan Mansion State Historic Park
Verde River Greenway State Natural Area

Eastern Region
Boyce Thompson Arboretum State Park
Catalina State Park
Fool Hollow Lake Recreation Area
Lost Dutchman State Park
Lyman Lake State Park

Southern Region
Kartchner Caverns State Park
Patagonia Lake State Park
Picacho Peak State Park
Roper Lake State Park
Sonoita Creek State Natural Area

Volunteer Program Home
[Skip]
Home
Find a Park
Arizona Map
Fee Schedule