Introducing Arizona Premier Trail System!
Arizona State Committe on Trails (ASCOT) and Arizona State Parks have established a new state trails system to recognize and promote non-motorized trails of special significance to Arizona residents and visitors.

The Arizona Premier Trails System will include up to 100 premier trails. It will highlight various types of trails in the following 7 categories: Recreation, Interpretive, Historic/Cultural, Scenic, Water/Riparian, National Trails and Trail Systems. The APTS will offer a diversity of unique trails that inspire people to experience the State's magnificent outdoor environment and cultural history. The nomination and designation process is guided by a variety of criteria, requirements and procedures listed within the application. Nominations can be submitted for existing non-motorized trails. All trails must meet the criteria within the application. Only the trails with the highest scores will be eligible for inlcusion. Applications are subject to a review process. Once designated, the trails will remain on the system ist for a period of five years. At the conclusion of the five-year time period, the trail may be re-nominated, but must go through the application process again and compete with other trail applications for any opening.
---
Why Apply to APTS?
Help in appliying for grants, funding or other financial aid.
Attract volunteers and friends groups to aid your trail

Increased trail visitation and tourism
Promoted on Arizona State Parks website and newsletter
5 Steps to Apply
Step One - Learn more about APTS
ASCOT members and Arizona State Parks will be scheduling a new webinar soon. Check back for updates and follow the steps below for more information.
Download the March Webinar Presentation here! (
13.38 MB PDF)
Step Two - Choose a Trail Category
APTS inlcudes a variety of trail types from Interpretive Trails to Water Trails. Which cateogry will your trail shine?!
Learn more about category attributes by reading the Criteria For Nominating Trails. (
133 KB PDF)
Step Three - Fill Out the Nomination Forms
Be sure to fill out both parts of the Nomination forms. Part I – Trail Information gathers more general information about the trail. Part II asks questions that is specific to the trail category. Applications with just Part II forms completed will not be considered for APTS designation.
Step Four - Get Feedback
Submit your application by November 15, 2016 to get feedback by ASCOT members on how to score more points or improve the application. Implement the feedback and resubmit the application by January 1, 2017.
Step Five - Submit Final APTS Application
APTS application deadline is January 1, 2017. If there are any questions/concerns with the process or the application forms contact Brianne Fisher at 602-542-6968 or Mickey Rogers 602-542-6942 or email advisorycommittee@azstateparks.gov.

Apply - Nomination Forms
Part I - Every applicant must fill out both Part I and Part II to be considered for Arizona Premier Trail System designation.
Part I - Nomination Form - Trail Information

Part II - Choose the category for your trail. Be sure provide the same contact information in Part I as in Part II.
Part II Nomination Form - Historic/Cultural Trails
Part II Nomination Form - Interpretive Trails
Part II Nomination Form - Scenic Trails
Part II Nomination Form - Recreation Trails
Part II Nomination Form - Water/Riparian Trails
Part II Nomination Form - National Trials
Part II Nomination Form - Trail System

Have an idea for how to improve APTS? We'd love to hear your feedback.

2015 Arizona Trails Plan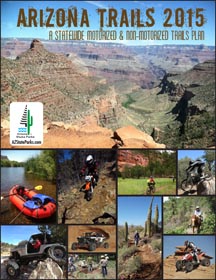 Welcome to the Arizona State Trails Program. Arizona State Parks' Trails Program provides a number of benefits for trail users, organizations, and communities.
Provides technical assistance to agencies and orgainzations;
Hosts trail conferences, trainings and education events;
Serves as hub for statewide trail information;
Manages statewide trails and advisory committees (OHVAG and ASCOT);
Conducts statewide trail research, which guides the expenditure of trail grant funds.


Explore the different trail categories below
Trails Main Categories
Historic Trails of Arizona
ASCOT's Top Trail Picks
Trails on State Trust Land
Trail Links & Partners
Trail Grants
ASCOT
Trail Planning & Construction

Contact the Trails Program
Comments or questions please contact:
Arizona State Parks - Trails Program
(602) 542-6968
advisorycommittee@azstateparks.gov