Veterans, learn about our Veteran Discount Program.
Looking for parks with specific activities or facilities? Visit Find a Park. To get a map of a specific park, visit that park's pages and click on Maps.

Alamo Lake State Park
Boyce Thompson Arboretum State Park
Buckskin Mountain State Park
Catalina State Park
Cattail Cove State Park
Dead Horse Ranch State Park
Fool Hollow Lake Recreation Area
Fort Verde State Historic Park
Granite Mountain Hotshots Memorial State Park
Homolovi State Park
Jerome State Historic Park
Kartchner Caverns State Park
Lake Havasu State Park
Lost Dutchman State Park
Lyman Lake State Park
McFarland State Historic Park
Oracle State Park
Patagonia Lake State Park
Picacho Peak State Park
Red Rock State Park
Riordan Mansion State Historic Park
River Island
Roper Lake State Park
San Rafael State Natural Area
Slide Rock State Park
Sonoita Creek State Natural Area
Tombstone Courthouse State Historic Park
Tonto Natural Bridge State Park
Tubac Presidio State Historic Park
Verde River Greenway State Natural Area
Yuma Quartermaster Depot State Historic Park
Yuma Territorial Prison State Historic Park



Arizona State Parks Map Downloads
Save, print, zoom in, and explore more with downloadable maps.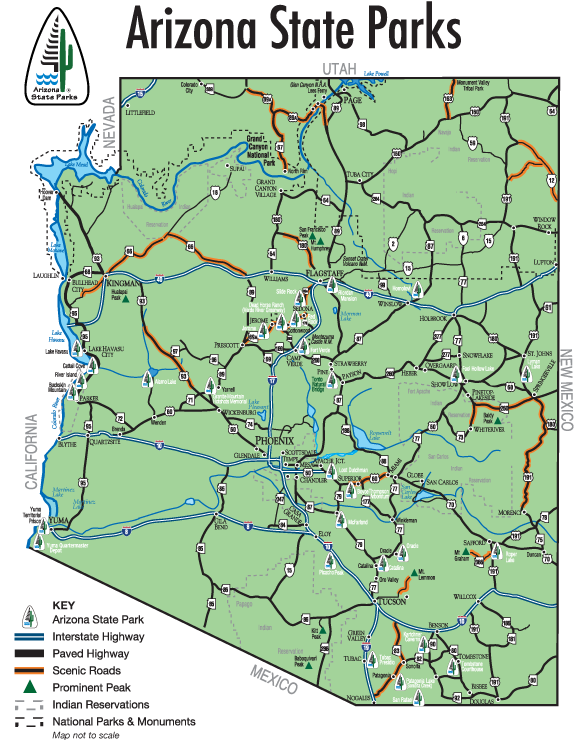 Download State Parks Map
(
1.6 MB PDF) The map pictured on the top of the page.

Download Park Facility Grid
(
335 KB PDF) At-a-glance Facility Info with Park Phone Numbers.
[Skip]
Home
Find a Park
Arizona Map
Fee Schedule