Natural Areas Program Advisory Committee: NAPAC
Mission
To serve in an advisory capacity to the State Parks Board; providing scientific and natural resource management expertise; in efforts to protect, conserve and maintain natural features, biological communities, ecological function, and other aquatic and terrestrial resources.

2016 Meeting Dates

Download Agendas & Minutes
Download statement of locations where all notices of meetings will be posted (
57 KB PDF)
2016 NAPAC Meeting Dates, Agendas & Minutes
Meeting
Dates

Agenda
Minutes
August 26, 2016
Agenda 08/26/16 332 KB PDF
* = Amended Agenda
Archive of previous years' agendas and minutes
What Are Natural Areas?
State Natural Areas in Arizona
(click to see larger)
Beyond the recreational and historic parks is a lesser known side of Arizona State Parks are the managed State Natural Areas. Natural Areas are areas of land which have scientific, educational and esthetic value by reason of distinctive natural features. In Arizona, Natural Areas have as their primary purpose the protection and or preservation and study of the site's natural resources.
Arizona State Parks has 3 Natural Areas and two conservation easements (San Rafael CE & Spur Cross CE). The three natural areas, Sonoita Creek State Natural Area, the Verde River Greenway State Natural Area, and the San Rafael State Natural Area.
The Natural Areas Program Advisory Committee (NAPAC) was created in 1999 by the Arizona State Parks Board to advise the Board on its Natural Areas acquisition program. At that time, the Board charged NAPAC with advising it in areas requiring scientific expertise under the Arizona Heritage Fund statutes. Over the years, NAPAC's role has evolved to include the development of recommendations and input on Natural Area land management planning, stewardship, and other natural resource conservation efforts within the State Parks system.
In achieving its Mission, NAPAC assists the State Parks by providing recommendations, review, and input on Natural Areas management plans, as well as natural resource assessment throughout the State Parks system. NAPAC facilitates opportunities to partner with local landowners, conservation organizations, and other state and federal agencies. NAPAC also evaluates suitability of properties for potential incorporation as a State Natural Area as part of the State Parks system.
NAPAC's Mission and activities tier to the State Park Board's Mission and Goals, through sustainable management, planning, research, and development of programs, partnerships, and conservation opportunities.
NAPAC Members
NAPAC Membership: Seven members appointed by the Parks Board, plus one ex-officio member from the Operations Section of Arizona State Parks. NAPAC members are natural resource professionals with backgrounds in sciences and resource management arenas such as geology, hydrology, biology, ecology and botany and resource planning. No more than three members may represent each county.
Chair: Rebecca Davidson, Maricopa County
Vice Chair: Thomas Skinner, Pima County
Larry Laing, Pinal County
David A. Weedman, Maricopa County
Linda Stitzer, Pima County
Bob Pape, Pima County
Santiago Garcia, Coconino County
Max Castillo, Ex-Officio, Arizona State Parks, Yavapai County
Advisory Committee Coordinator: Dawn Collins (602) 542-7128
NAPAC Member Biographies
San Rafael State Natural Area
Chair: Rebecca Davidson, Maricopa County
Rebecca is employed by Salt River Project (SRP), as a Senior Water Rights Analyst in the Water Rights and Contracts Department. Rebecca currently works on issues associated with water policy and management, and assisting on the development of partnerships and other projects that protect water resources for SRP shareholders while also promoting stream conservation activities. Prior to SRP, Rebecca worked for 11 years with the Arizona Game and Fish Department, and has experience in federal land planning, natural resource management and environmental regulations (water rights, policy and management, natural resource management, land use planning), and endangered species biology and monitoring. Rebecca has a B.S. in Environmental Science from Northern Arizona University.
Thomas Skinner, Pima County
Tom worked for the U.S. Forest Service for 30 years in Arizona and New Mexico; 20 of which were as a wildlife biologist, preceded by 10 years in the fields of range and watershed. Tom retired in 2009 as Wildlife, Fish and Rare Plant Staff Officer for the Coronado National Forest. Other natural resource experience included work with the Bureau of Land Management in Nevada, and U. S. Peace Corps in Thailand. In addition to NAPAC, Tom is currently involved in volunteer efforts to remove invasive species, and working with children in natural resource programs and education. Education: B.A. in Biology, Carleton College, Northfield, Minnesota, and an M.S. in Range/Wildlife, University of Arizona.
Verde River Greenway State Natural Area
Sheridan Stone, Cochise County
Sheridan is employed as federal civil service Wildlife Biologist at Ft Huachuca Military Installation since 1987, with responsibilities for conservation of game species and protected plant and animal species; for habitat management of desert scrub, grassland, riparian, woodland and forest vegetation; for urban wildlife management; non-native invasive species planning and management. Sheridan is active on several interagency species recovery planning and implementation groups. Previous employment included Scripps Institute of Oceanography, National Marine Fisheries Service in California and National Park Service. Education includes a BS in Wildlife Biology at University of Montana and an MS in Ecology and Behavioral Biology at University of Minnesota.
Larry Laing, Pinal County
Larry is currently an environmental consultant. He recently retired from the National Park Service in Arizona as a resources program manager. Larry worked 22 years with the U.S. Forest Service as a soil scientist and ecological unit inventory specialist at the forest and regional levels, including several years in Arizona. Areas of expertise include soils, landscape ecology, watershed and landscape assessments, and forest and park planning.
David A. Weedman, Maricopa County
David is employed by the Arizona Game and Fish Department (AGFD). David spent ten years conducting native fish monitoring and survey activities throughout Arizona including the San Rafael Valley and the Verde River. David was on the crew that discovered Gila topminnow in Cole Mine Canyon near the Sonoita Creek State Natural Area in 1994 and drafted the original revised Gila topminnow recovery plan in 1999. David also worked as a sport fish biologist in central Arizona managing fisheries in the in the seven big lakes and in the rivers of the Salt, Verde and Agua Fria watersheds. David is currently serving as the Aquatic Habitat Program Supervisor for AGFD and has experience with NEPA and ESA related consultations for the Department. Recreationally, David enjoys canoeing, rafting, fishing and hunting throughout Arizona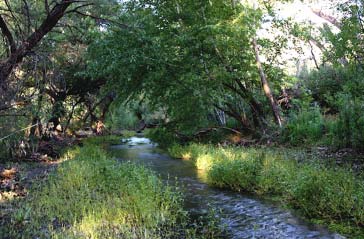 Sonoita Creek State Natural Area
Linda Stitzer, Pima County
Linda worked for 25 years at the Arizona Department of Water Resources in a variety of water resource planning positions including as Director and Planning Supervisor for the Tucson Active Management Area.  She also worked in statewide planning, focusing on regional water needs and issues and provided technical and planning support to watershed partnerships in southern Arizona.  She was the principal author and co-manager of the Arizona Water Atlas, a compilation of water resource information for the entire state. In 2011 Linda joined Western Resource Advocates, a non-profit legal and policy organization. As the Arizona Senior Water Policy Advisor she works with local and regional water providers, governments and policymakers to advance water planning, conservation and efficiency programs beginning in the San Pedro and Verde river valleys to create solutions to meet human water needs while minimizing impacts to these rivers. Linda holds a B.S. in Biology/Environmental Science from Northern Arizona University and a M.S. in Soil and Water Science from the University of Arizona. She is a member of the Arizona Hydrological Society and serves on the board of directors of the Tucson Audubon Society and The Cochise Water Project, an organization that supports water conservation projects in the Sierra Vista area. 
Bob Pape, Pima County
Bob has worked as a biological consultant in the southwestern United States for the last 10 years and has experience conducting habitat evaluations, threatened and endangered species surveys, impact assessments and wildlife studies. His specialties include cave and karst resources and invertebrate and desert ecology. He has been actively involved in cave resource documentation, research and preservation since 1970, and has collaborated with the National Park Service, U. S. Forest Service, Bureau of Land Management and Arizona State Parks on cave and karst resource management issues. He is currently a Senior Scientist with the Arizona State Parks Research Inventory and Monitoring (RIM) Program where he has recently completed a re-inventory of the macro-invertebrates of Kartchner Caverns State Park. He is an Associate in the Entomology Department of the University of Arizona. Education: BA in Biology, North Central College, Naperville, Illinois.
Max Castillo, Ex Officio, Arizona State Parks, Yavapai County
Max started working for AZ State Parks in 1975 at Dead Horse Ranch State Park, with expertise in park maintenance and Law Enforcement. In 1998 he became the Verde River Greenway Unit Manager. Max has over 35 years experience along the Verde River, with formal training that includes Proper Functioning Condition of Riparian Areas, by USFS and other training at Natural Areas Conferences.
[Skip]
Home
Find a Park
Arizona Map
Fee Schedule