Riordan Mansion
Volunteer Opportunities
Volunteer Erik Larson hosts a tour of Riordan Mansion for park visitors. Volunteers help every facet of park operations.
Many Volunteer opportunities are available at Riordan Mansion. Learn new skills and help us preserve this wonderful example of stick-style architecture. Review our list of positions and contact the Volunteer Coordinator with any questions or concerns.
Status: All positions available to be filled
Tour Guide
We give guided tours of the home of Tim and Caroline (East wing) every day on the top of each hour. The tours tell the story of the Riordan family, Flagstaff, and the architecture of the homes, and last about an hour.
West Wing Docent
The downstairs of the home of Michael and Elizabeth is designed to be a complement to the guided tour of the East wing. A volunteer presence is necessary to keep this area open to visitation.
Front Desk
The front desk is where the first visitor contact is generally made. This person greets visitors, answering their questions about the Park, and general information about Flagstaff. This person also handles entry fees and gift shop sales, and answers the phone.
Pianist
We have a 1904 Steinway "B" piano, and a 1892 Haines Brothers upright piano, we keep them tuned and they need to be played regularly. It is also nice for the visitors to hear the piano being played while on tour.
Groundskeeper
We have 6 acres of grounds which need care most of the year. Raking, pruning, weeding, sweeping and trash pick-up are the most common activities.
Carpenter & Plumber & Electrician & Mechanic
Qualified tradespeople willing to volunteer their services are always something we can use.
Archival Research
A large portion of the Riordan family and business papers are housed at the NAU Cline Library in Special Collections and Archives. There are many topics an interested individual could research for us there.
Data Entry
We are currently entering our archives into a database. The archive consists of mostly typed correspondence from and to Timothy Riordan. Typists must be accurate and able to choose keywords based on the content of the documents.
Dusting
Everything in the house must be dusted regularly with 100% cotton cloths only. The floors also must be dust-mopped and the modern carpets vacuumed.
Tour Guide/Visitor Center
There is one on-site position at this park. The site includes city water and full electric hook-up. There is an on-site blackwater disposal by way of a transportable holding tank.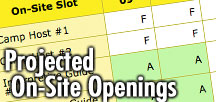 Check Projected On-Site Openings at this park
Riordan Action Network
The Mission of the Riordan Action Network is to Protect and Preserve the Riordan family homes and keep them Open to the Public.
http://www.riordanmansion.org
Volunteer Coordinator:
Nikki Lober, Park Ranger
phone: (928) 779-4395
ASP Volunteer Programs
Visit the Volunteer Program Home Page or Start Online Volunteer Application
Parks Volunteer On-Site Volunteer Service Projects Site Stewards R.I.M. Project OHV Ambassadors Friends Groups Historical Re-Enactors

Read about news and events in the Volunteer Voice Newsletter.
Read current and past issues online or Sign up for Newsletter
[Skip]
Home
Find a Park
Arizona Map
Fee Schedule
Western Region
Northern Region
Eastern Region
Southern Region