Lake Havasu Locator Map
Types of Maps: Click a map button to change type.
Map: Shows street map view (default).
Terrain Toggle: Shows both streets and geophysical features.
Satellite: Shows satellite imagery.
Labels Toggle: Shows map notes and names.

Map Controls:
+ and - Buttons and Slider: Zooms in and out of map. Note that all zoom levels are not available for all maps.
Address Bubble: Click the "X" to close the Address Bubble. To re-open, you must Reload or Refresh this page in your browser.
Lake Havasu Park Map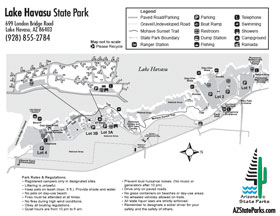 Download Printable Park Map (
715 KB PDF)
Park Map shows you an overview of park, including parking lots, boat ramps and more.
GPS Coordinates to park entrance
Decimal Degrees (WGS84)
Latitude: 34.493205
Longitude: -114.358964
Degrees, Minutes & Seconds
Latitude: N34 29 35
Longitude: W114 21 32
GPS
Latitude: N 34 29.592
Longitude: W 114 21.538
UTM 11N
X: 742506
Y: 3820010
[Skip]
Home
Find a Park
Arizona Map
Fee Schedule
Western Region
Northern Region
Eastern Region
Southern Region