Lake Havasu Now Offers 24/7 Online Campground Reservations or Call Reservation Center!
Reserve your spot (campground RV or tent site) from the comfort of your home, anytime of day. Make online reservations
Site reservations for this park are also available by calling the Reservation Center at (520) 586-2283. You can call 7 days a week, from 8 am to 5 pm MST. There is a $5 non-refundable reservation fee per site.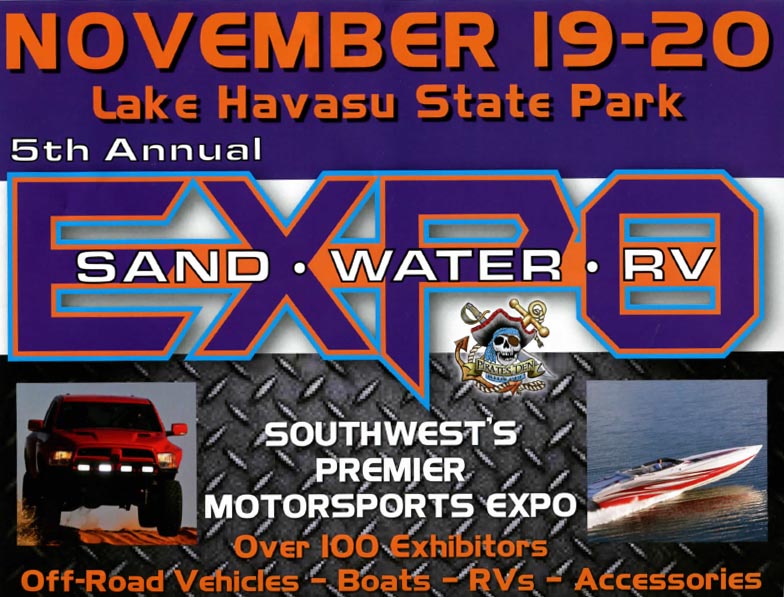 BRING THE FAMILY & ENJOY
Havasu Hot Boat Show & Shine (Sat. only)
Demo Boats in Water (1st Time Ever!)
Fall Classic Corn Hole Tournament
Anderson Auto "Torture Pit
Live music
Food
Beer Garden
9am.-5pm. - Sat., 9am.-3pm. - Sun.
Admission $3.00 per adult, Kids 6 & under FREE!
FREE Parking
---
Don't Move a Mussel: It's the Law!
Did you remember to check the bottom of your boat & trailer after a great day out on the lake? Learn about the Arizona Game & Fish Program.
Read the latest Lake Havasu Mussel Report.(
51 KB PDF)
Notice
The park is experiencing some difficulties with wild pigs. The park is actively working on removing them. In the meantime, campers are advised to keep all food items and garbage properly stored.
Campground & Park Improvements
The campground is open. All sites now have 50 amp electrical hookups and access to potable water at individual sites. Nightly camping fee is $30-$35 a night; except beachfront sites which are $35-$40 a night. Beachfront sites include site numbers: 3, 4, 7, 8, 10, 14, 16, 34, 36, 38, 40, and 41.
Lake Havasu State Park will be getting a new launch ramp, additional/upgraded parking, and a new exit at Lot 4. Due to scheduled park improvements starting in October, there will be some construction traffic, noise, and dust from daylight to sunset, seven days a week until completion. We are sorry for any inconvenience this may cause during your stay.
Introductory Park Video
Lake Havasu State Park offers many water recreation activities. Located within Lake Havasu City, it's a great place to spend the day.
The scenic shoreline of Lake Havasu State Park is an ideal place to enjoy beautiful beaches, nature trails, boat ramps, and convenient campsites. This spot is truly a watersport haven located near the famous London Bridge of Lake Havasu City.
The park offers 3 boat ramps, 47 campsites, a special events area (not available on holiday weekends), picnic area, and beach area. The Mohave Sunset Trail (1.75 miles) winds its way through the lowland desert and along the shoreline.
The Arroyo-Camino Interpretive Garden showcases the diverse life that exists within the park and this area of the desert. Birds, lizards, and desert cottontails are common sights.
BLM Lake Havasu Field Office

[Skip]
Home
Find a Park
Arizona Map
Fee Schedule
Western Region
Northern Region
Eastern Region
Southern Region