Facilities

Boat rentals are available at the park through the park's concessionaire, Wet Monkey Power Sports Boat Rentals.

Visitor Center / Contact Station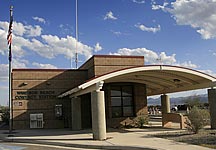 Hours: October – March: 8am-4pm
April – September: Weekdays: 7am-4pm
Weekends: 7am-6pm

Restrooms
This park has handicap accessible restrooms. Restrooms are located in Lots 1, 2 and 4. There are also 2 restroom buildings in the campground.

Group: Day Use Areas
Windsor 4 Ramada: $55.00 per day ($5.00 non-refundable). There is potable water and charcoal grills available.

Windsor 2 Ramada: $35.00 per day ($5.00 non-refundable).

Vehicle day use fee is also required. For availability, please contact the park.

Group: Camping Sites
Group camping is available for scout/youth groups certain times of year. Please contact park for availability.

Camping Sites / RV Sites
Site reservations are available by calling the Reservation Center at (520) 586-2283. You can call 7 days a week, from 8am. to 5pm. MST. There is a $5 non-refundable reservation fee per site. You may also reserve campsites 24/7 for this park online
The campground is open. All sites now have 50 amp electrical hookups and access to potable water at individual sites. Nightly camping fee is $35 a night; except beachfront sites which are $40 a night. Beachfront sites include site numbers: 3, 4, 7, 8, 10, 14, 16, 34, 36, 38, 40, and 41.
A paid camping permit entitles the holder to use of the shower/restroom, water, dump station, and use of park day-use facilities. Sites include a picnic table and a fire ring. Most sites have shade armadas. Most sites can accommodate both RVs/Motorhomes and tents. The maximum length of stay is 14 nights. Total occupancy will not exceed 6 adults and a total of 12 individuals per campsite. Check-out time is 12 noon. Check-in time is 2 pm. All fees must be in advance. Please register at Contact Station.
Note: From April 1 through Sept. 30, there is a two night minimum stay for weekend camping: you must reserve both Friday & Saturday night. For Memorial Day Weekend, July 4th Weekend, Labor Day Weekend and Columbus Day Weekend, there is a three night minimum stay for holiday weekend camping: you must reserve Friday, Saturday, and Sunday nights.
There is a $15.00 per night fee for second vehicles. Fee will be paid upon arrival at the park. Fee does not apply to vehicles towed behind a primary vehicle when the primary vehicle remains at the site and the towed vehicle is used for transportation.
For cancellation policy see Reservation Policies: Terms & Conditions

Dump Station
Dump Station is available to registered campers. Non campers may use the Dump Station for $15.00.

Showers
Showers are located in the campground for use by registered campers only. Open year-round.

Picnic Areas/Shelters
The picnic area is at the day-use beach. There are picnic tables, shade ramadas, grills, potable water and restrooms available.

Hiking Trails
Mohave Sunset Trail: 1.75 miles long. Rating: easy. This trail winds its way through the lowland desert and along the shoreline. Pedestrian traffic only. No Bicycles. Pets on leashes allowed.
Download map of Mohave Sunset Trail (
980 KB PDF)
Arroyo-Camino Interpretive Garden: This interpretive area showcases the diverse life that exists within the park and this area of the desert. Birds, lizard, and desert cottontails are common sights.

Fishing
Fish commonly caught in the lake are: smallmouth bass, largemouth bass, striped bass, various catfish and sunfish species. The park offers a fish cleaning station.
A valid Arizona fishing license is required for anglers 10 years and older. Licensing information is available online at Arizona Game & Fish, or purchase a fishing license at a local dealer.

Swimming
The park has a large swim area at the day-use beach. No lifeguard on duty. Swimming is at your own risk.

Boat Ramp
There are 2 boat ramps, located in lot 2. There is also a Personal Watercraft (PWC) ramp, located in lot 1. Due to fluctuating water levels, check with a ranger about ramp conditions.

Non-Motorized Watercraft
Non-motorized watercraft may launch at any boat ramp.

Wildlife Viewing
Commonly seen birds: Gambrel's quail, roadrunner, great blue heron, redtail hawk, American kestrel, killdeer, great horned owl, hummingbirds, turkey vultures. Commonly seen mammals: coyote, bobcat, desert cottontail, kangaroo rats, ground squirrels.
Best places to view: Interpretive Garden & the Mohave-Sunset Trail.
[Skip]
Home
Find a Park
Arizona Map
Fee Schedule
Western Region
Northern Region
Eastern Region
Southern Region