2014 Girl Scout Badge Workshops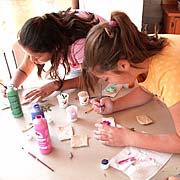 Girl Scouts can participate in special activities and workshops that continue again in the spring of 2010 at Boyce Thompson Arboretum State Park.
Boyce Thompson Arboretum State Park
is the place to discover the intricate beauty and many faces of Arizona's oldest and largest botanical garden. Featured are plants from the world's deserts, towering trees, captivating cacti, sheer mountain cliffs, a streamside forest, panoramic vistas, many natural habitats with varied wildlife, a desert lake, a hidden canyon, specialty gardens and more.
This season the park will host additional Girl Scout badge workshops, offering girls a chance to study subjects ranging from photography to desert critters, wildlife and even finding your way in the outdoors.
Registration
Includes a non-refundable down payment of $20, is required to hold a position for a scout or troop. Workshop/Admission Fees: $10 per Scout, $10 per Adult, $5 per Non-Scout age 5-12. To sign up and prepay, have a credit card ready and call Arboretum staff at 520-689-2723. Deadline to pre-register is two business days prior to the workshop date
When calling about Girl Scout workshops please be ready to tell staff the specific workshop and date you wish to register for, your Girl Scout troop number, your name (or the troop leader's name); contact phone numbers, the number of scouts and chaperones attending, and provide a credit card.
Girl Scout leaders or parents wanting more information are invited to email Lacey Pacheco at lpacheco(at)ag.arizona.edu to be added to Lacey's email alert list for scout troops, parents and educators (or call 520-689-2723).
Learn more about Arizona Girl Scouts from the Arizona Cactus-Pine Girl Scout Council
and the Sahuaro Girl Scout Council
.
Brownies Workshops
Workshops last 2.5 hours.
9:00 am - 11:30 am
April 5: Letterboxer
May 3: Bugs

Programs for Junior Girl Scouts
Workshops last 3.5 hours.
9:00 am - 12:30 pm
April 19: Flowers
May 17: Gardener
Advances Programs for Cadettes
Workshops last 4.5 hours.
9:00 am - 1:30 pm
April 26: Woodworker
May 24: Trees
[Skip]
Home
Find a Park
Arizona Map
Fee Schedule
Western Region
Northern Region
Eastern Region
Southern Region